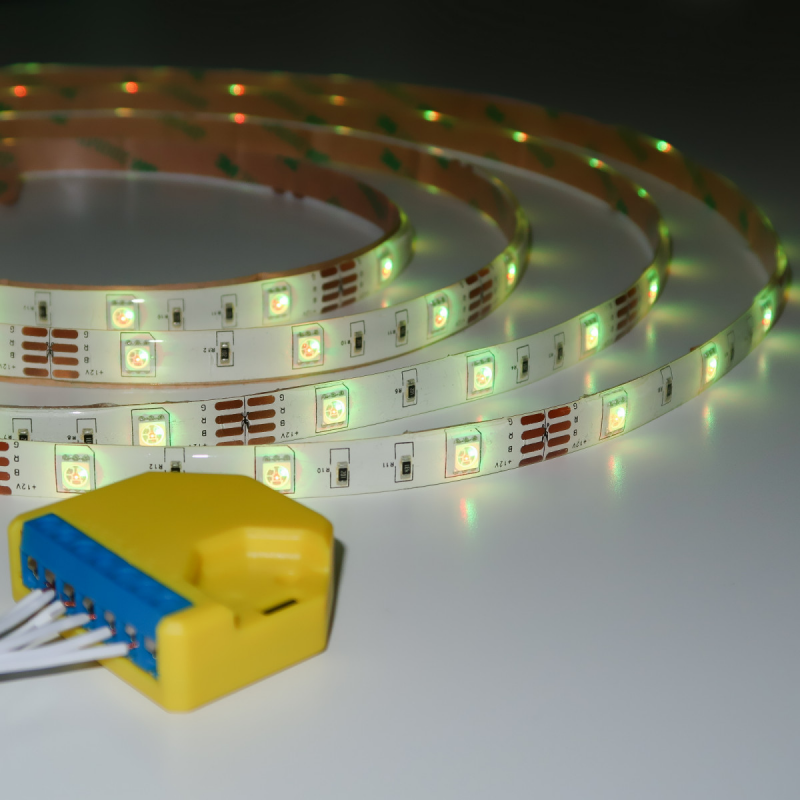  
LED RGB light strip (5m) with Wi-Fi Controller
Shelly
Decorate your Smart Home using the LED light strip with included Wi-Fi Controller
The package contains:
RGB LED light strip, 5 meters, 30 LEDs per meter, 12V DC, IP65 rated (outdoor and indoor use)
Shelly RGBW2 Wi-Fi Controller, for indoor use
Power supply (220V AC to 12V DC), 1A, 12W

Connect the Shelly RGBW controller to your Wi-Fi network using the Shelly application (available on Android and iOS).

You can turn on, turn off, change the color and intensity and control the effects of the LED strip using the Shelly mobile application or other compatible applications.
Connect the controller to the shelly cloud and you can control it from https://my.shelly.cloud/

Specifications:
- Automate the control of your smart home using the 2.4GHz Wi-Fi network;
- Power supply: 220V AC, 12V - 24V DC;
- Maximum controller load: 12V - 45W/channel, maximum 144W; 24V - 90W/channel, maximum 288W
- Compatible with the following EU standards: RE Directive 2014/53/EU, LVD 2014/35/EU, EMC 2004/108/WE, RoHS2 2011/65/EU
- Control using the Shelly mobile application or compatible applications;
- Enhanced scheduling: Create weekly schedules to improve the usage simplicity of connected devices;
- Dynamic Sunlight scheduling: Create schedules according to sunrise and sunset times;

Benefits:
- Compatible with MQTT: integrate Shelly with your MQTT broker;
- Compatible with Samsung SmartThings: through DTH or MQTT SmartApp;
- Compatible with Home Assistant and OpenHAB: integrate your devices with the rest of your home.
- The REST API allows compatibility with Vera, Fibaro, SmartThings, HomeSeer, Savant, HomeKit, etc.
led-strip-with-controller
Data sheet
Protocol

Wi-Fi

Compatible

HomeKit (via HomeBridge)
MQTT
SmartThings (with DTH)