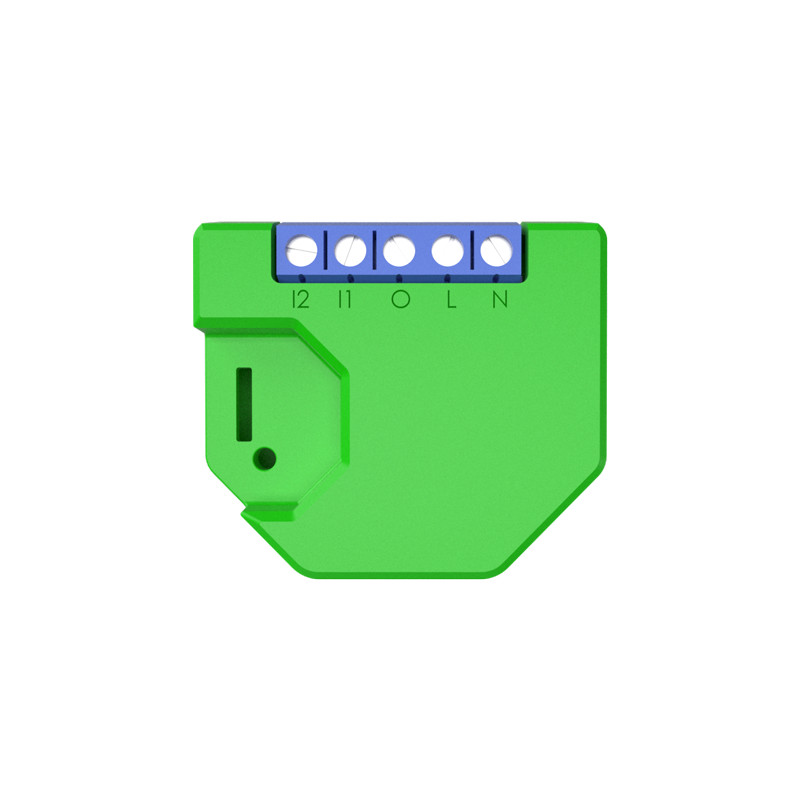  
Shelly Dimmer 2 Smart Home Wi-Fi Relay, no NEUTRAL wire
Shelly
The Shelly Dimmer Wi-Fi relay helps you monitor consumption and control dimming of non-smart lights
Shelly Dimmer is a wireless relay with dimming and power monitoring features that manages the activity of smart home devices.
New version, Shelly Dimmer 2 - works without a neutral line.
Works with:
- incandescent or halogen lights (10-220W)
- dimmable LED lights (50-150VA / 10W-200W)
- ferromagnetic transformers with resistive-inductive loads (50-150VA)
It can be controlled manually in 4 setups: single switch, double switch, momentary switch, 3-way switch.
Requires line and null for connection.
It groups, starts, stops, controls the intensity and monitors the consumption of the connected lights through its own mobile application or other compatible applications.
The overheat protection and current consumption monitoring function gives advantages over previous relay models.

Do you have a device that is not smart and you want to make it smart? Shelly is the most effective solution!

Specifications:
- Automate control of your smart home using just your Wi-Fi network connection;
- Power supply: 110-240V, 50 / 60Hz AC;
- Works without a neutral line;
- Thermal protection: internal sensor with automatic shutdown on overheating;
- Compatible with the following EU standards: RE Directive 2014/53/EU, LVD 2014/35/EU, EMC 2004/108/WE, RoHS2 2011/65/EU;
- Control via Shelly mobile app or compatible apps;
- Enhanced scheduling: Create weekly schedules to improve the usage simplicity of connected devices;
- Dynamic Sunlight scheduling: Creates schedules according to sunrise and sunset times;

Benefits:
- Compatible with MQTT: integrate Shelly with your MQTT broker;
- Compatible with Samsung SmartThings: via cloud, with DTH or MQTT SmartApp;
- Compatible with Home Assistant and OpenHAB: integrate your devices with the rest of your home.
Data sheet
Protocol

Wi-Fi

Compatible

HomeKit (via HomeBridge)
MQTT
SmartThings (with DTH)