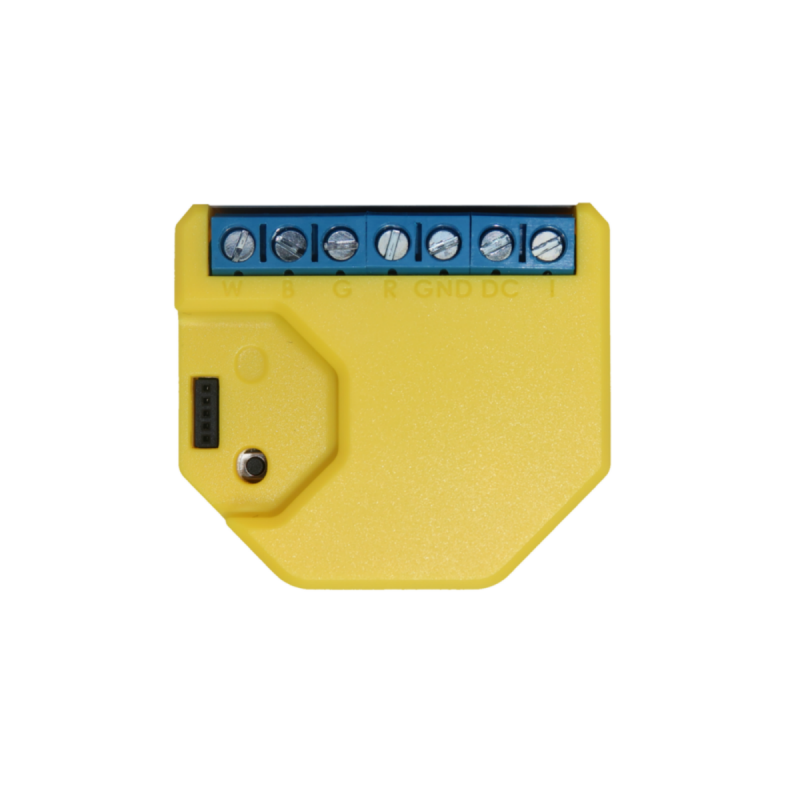  
Shelly RGBW2 - LED Strip Smart Home Wi-Fi Relay
Shelly
The Shelly RGBW2 Wi-Fi relay will let you monitor the power consumption, control and automate LED light strips
Shelly RGBW 2 is a wireless relay with power consumption monitoring that can control an LED strip or up to 4 bulbs (12-24V) in a Smart Home system.
Works with W, RGBW, RGB, 12V or 24V led strips, up to 144W (at 12V) or 288W (at 24V) total consumption.
Possible combinations: 1x RGBW AC / DC, 1x RGB AC / DC, 4xLED White Bulb or Strip DC
It controls the activity of the bulb devices: it groups them, starts and stops them through its own mobile application or other compatible applications.
Do you have a led strip you want to make smart? Shelly is the most efficient solution!
Specifications:
- Automate the control of your smart home using a Wi-Fi connection (2.4GHz);
- Power Supply: 12V - 24V DC;
- Maximum power: 12V - 45W/channel, maximum 144W; 24V - 90W / channel, maximum 288W
- Compatible with the following EU standards: RE Directive 2014/53/EU, LVD 2014/35/EU, EMC 2004/108/WE, RoHS2 2011/65/UE
- Control via Shelly mobile app or compatible apps;
- Enhanced scheduling: Create weekly schedules to improve the usage simplicity of connected devices;
- Dynamic Sunlight scheduling: Creates schedules according to sunrise and sunset times;
Benefits:
- Compatible with MQTT: integrate Shelly with your MQTT broker;
- Compatible with Samsung SmartThings: through DTH or MQTT SmartApp;
- Compatible with Home Assistant and OpenHAB: integrate your devices with the rest of your home.
- The REST API allows compatibility with Vera, Fibaro, SmartThings, HomeSeer, Savant, HomeKit, etc.
Data sheet
Protocol

Wi-Fi

Compatible

HomeKit (via HomeBridge)
MQTT
SmartThings (with DTH)